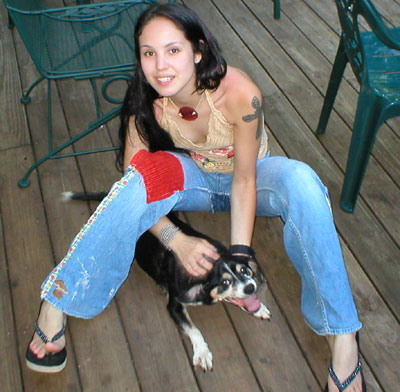 who dares wake me?!
survey☺ test results☺ music☺ meli
age: 24 (b-day aug 8)
AIM: justifide31
occupation: custom jewelry& clothing designer
relationship status: as always, with boyfriend
religion: religion is of man; i dont like it. i believe in God, Jesus, the Holy Spirit and the Bible. i believe in faith.
studying: nothing. graduated already.
majoring: degree in spanish already.
from: my mommy's UTERUS.
favorite Quote: Ooooh, Oooooh!! I've got to pee! ~Miss Piggy (Muppets from Space)
spiritual gifts: compassion and miracles
piercings: 9 as follows: there are three in my right lobe, two in my left lobe, one horizontal piercing in each nipple (ring w/ captive bead), one navel (jewelry varies), one horizontal hood (large gauge circular barbell with a captive bead), one 12g tongue, one left rook (14g circular barbell w/captice bead), stud in left nostril
tattoos: two, flame/dove on back of neck, God coming to earth as Holy Spirit, cross on left arm